The novel COVID-19 is currently spreading rapidly in Sri Lanka catching every citizen off-guard with the 2nd wave of infection. Thus, it is advised that students use remote methods for their learning. To keep the virus from spreading following remote methods for work and education is a necessity, which is quite different from the traditional methodologies.
Before 2020, working remotely or studying remotely was always an option, however, with the COVID-19 coming into the picture, people had to work or study online instead of going to the University/School or workplace.
These changes may be drastic for generations that are accustomed to traditional methods. However, the human race is one that constantly evolves, adapts, and improves despite the circumstances. This emphasizes that we need to keep improving ourselves. When it comes to education, universities, schools worldwide are employing remote learning methods for their students.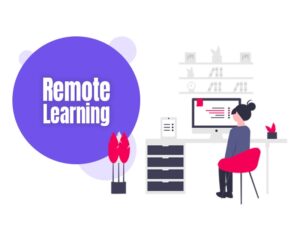 People may see this as a hindrance; however, various surveys have proven otherwise. When it comes to higher education, the students are fully equipped with the knowledge and the soft skills to operate with online platforms. This situation is more special for students in the IT field. IT personnel often use remote or online means for their projects in their career.
Surveys conducted among the students in the Institute of Software Engineering indicated an increase of 50% in the pass rate for the evaluations conducted for the modules conducted online. As for the student feedback, received a positive overall feedback from the students towards remote learning methods that even led to change our overall view on delivering the module content to the students.
That said, the lectures, evaluations, course work, and various activities that were conducted so far have shown to be productive as much as the traditional means, if not more so.
Which concludes, remote learning might not as scary as you imagined it to be. Honestly, you might even befit from it on the pretext that you put your effort into learning.
Finally, stay at home and stay safe. Make the best of the time you have and improve yourself with knowledge while you are at it.